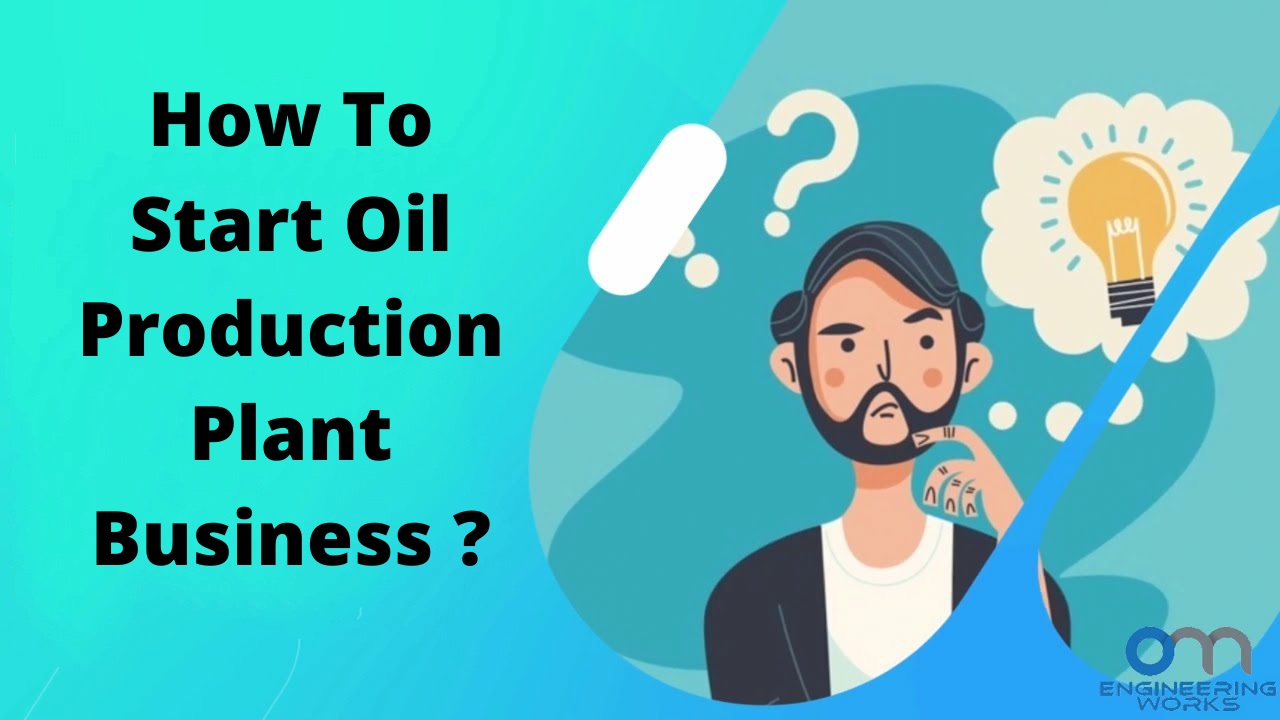 Edible oil manufacturing is a profitable business venture that increases in demand due to the improved living standards of people. Edible oil is extracted from various oil seeds, such as Groundnut, sunflower, coconut, sesame, and many more, through mechanical pressing. The oil is used for various purposes, such as cooking, animal feed, and more.
If you are consider to start a small business then a Cooking oil manufacturing business is the best option for you.
Here are some steps to set up your oil manufacturing business:
Learn about the business: You have to research the requirements of the cooking oil manufacturing business, including oil mill plant machinery, investment, market, and competition. You can visit visit thisTo understand the whole process and knowledge of the industry.
Research the market: Before starting any business, it is mandatory to research the market to understand the demand, competition, and profit of the business. Conduct market research to understand the different types of cooking oil, their prices, and the target audience.
Decide on the Type of Oil to Manufacture: After conducting market research, decide which type of oil you want to manufacture. India produces various types of edible oils, including sunflower oil, Groundnut oil, mustard oil, palm oil, and safflower oil, from other countries.
Obtain necessary licenses and permits:
Register the Business: You can register your oil mill business as a sole proprietorship, partnership, LLP, or private limited company. The registration process will vary depending on the business structure you choose
Trade License: You need to obtain a trade license from your local municipal authority.
Udyog Aadhaar Registration: This is a registration that can be obtained from the Ministry of Micro, Small, and Medium Enterprises. It is optional, but it can help you to access various government schemes and incentives.
GST Registration: You need to obtain a Goods and Services Tax (GST) registration if your annual turnover is over a certain amount (currently Rs. 20 lakhs for most states).
NOC from Pollution Control Board: You will need to obtain a No Objection Certificate (NOC) from your State Pollution Control Board.
FSSAI Registration: You need to obtain a license from the Food Safety and Standards Authority of India (FSSAI) to ensure that your oil mill plant meets food safety standards.
Fire License: You need to obtain a fire license from the Fire Services Department of your city.
It is recommended you consult with a legal expert or a business consultant to ensure that you have all the necessary licenses and registrations before starting your oil mill plant.
Set up a Manufacturing Unit: Setting up a manufacturing unit for oil production is a crucial step toward its success. The manufacturing unit is the place where the processing and extraction of oils from various oil seeds take place.
Get the Funds for the installation of an oil mill plant: To set up your oil manufacturing industry, you require finances for purchasing land, and machinery, construction for the plant, purchasing of raw materials, working capital, and other expenses. You can visit websites such asto get information aboutgovernment loan and subsidy.
Choose the best manufacturer of theoil mill plant machinery: oil mill plant machinery: Select a trustworthy and skilled manufacturer such as OM Engineering Works, who can provide a complete oil extraction plant with excellent after-sales support.
Hire Skilled Workers: Hire skilled workers who have experience in the Cooking oil business Cooking oil business using different hiring mediums, and personal contacts. Provide them with the necessary training to ensure the quality of the products.
Set up a Packaging Unit: Invest in a packaging unit to pack the filtered oils. You can either pack the oils in jars or bottles Tin or oil tanks for bulk packaging to supply to commercial customers.
Establish Distribution Channels: Set up a distribution network to supply your products to retailers, wholesalers, and other local customers. You can also sell online, like Amazon, Flipkart, and Bigbasket to reach direct customers.
Advertise Your Products: Hire a marketing and advertising agency to create awareness about your products. Use social media, Performance marketing, and other promotional tools to reach an audience.
Ensure Quality Control: Make a quality control process to ensure that your products meet high standards of quality. Conduct regular inspections and tests to maintain the quality of your oil.
Determine to price: Determine the pricing strategy that allows you to be competitive in the market and make a profit.
Create a marketing strategy: Create a marketing strategy that promotes your brand, product, and unique selling Ideas. Utilize various marketing channels such as social media, traditional advertising, and Performance marketing, and contact social media influencers.
Monitor and evaluate the business: Continuously monitor the business's performance to identify areas for improvement and opportunities for growth.
Choose a suitable manufacturer and machine: Selecting a suitable manufacturer and machine is crucial for setting up an edible oil manufacturing business. OM Engineering Works is a leading manufacturer and exporter ofcooking oil extraction plants.With over 50 years of experience and expertise in the oil production industry, OM Engineering Works provides complete oil extraction plants with excellent after-sales service. our advanced technology plants are reliable, robust, excellent in best quality, and low maintenance machinery.
If you require information to set up an Edible oil manufacturing business, please do not hesitate to contact us. Our sales team will get in touch with you to provide professional guidance and machinery to your specifications.
Contact no : +91 88660 30560 / +91 82000 63796